Many homeowners invest vast amount of money into the interior decoration of their homes but neglect the appearance of their home entrance. The thing that these homeowners don't realize is that the entrance is the presentation card of a household and the better the entrance looks the more welcoming and cozy the entire house appearance. If you are such a homeowners keep reading as we have listed down several entrance designs that you may wish to use for your entrance.
Asymmetric stairs- Instead of installing a traditional entrance staircase why don't you place an asymmetrical one that has no railing and non-aligned steps. This will give a contemporary look to your house and will certainly enhance the street appeal of your house.
Grass and stone pathway- Place a natural grass pathway that leads to your entrance door. Then take large white stones and place them both horizontally and vertically on the grass while you leave five centimeter gaps between each stone. This way the grass will grown in the gaps and create an interesting grass and white stone path that leads towards your house.
White rock and wooden path- Build a dark wood path that leads to your door and flank the wooden path with small white rocks. The dark wood will contract from the rocks and will give a sophisticated appearance to your entrance. To make things even more sophisticated you can flank your entrance door with bonsai trees.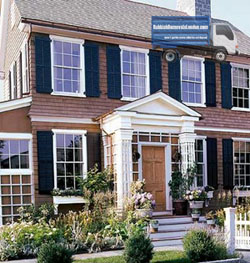 Illuminating steps– Place these large stone steps in an aligned or non-aligned pattern and create a pathway that leads to your home. At first sight there is nothing interesting in this highly common entrance design, or is it. These special steps have a pressure plate inside them that lights-up each step in a different color when somebody steps on them. By using illuminating steps you will not only ameliorate the look of your entrance but you will also provide an amazing light show to your neighbors and randomly passing pedestrians.
Regardless which entrance design you choose make sure that you hire a house clearance company to remove the construction junk one that the entrance remodeling is over. You won't have a hard time finding excellent house clearance services because there are numerous garden and house clearance companies in your area. However scout several house clearance companies before you hire one and always choose the company that has the best price/house clearance service ratio.
Once the rubbish is removed you will surely notice that now your home entrance looks much better.
Dealing with rubbish is part of life, whether running a household or business, people are faced with having to dispose of residential and commercial waste on a regular basis. In many cases this is easier said than done and sometimes removing waste becomes a laborious issue. If looking for tips and clever tricks on how to minimise waste in the workplace or home, or perhaps make dealing with waste more efficient and affordable then by all means check out the Free Advice section of our official company website. There our readers will find a large number of articles and content on waste management, innovations and developments in waste processing technology, as well as information on kerbside collection, local and national waste management regulations and much more. If looking to reduce and reuse in order to minimise the waste your household or business generates watch out for the 'green living and efficient working' articles our writers compile. Tips on how to reduce energy consumption at home or at work can also be found in the Free Advice section of our website. If you would like to see a specific topic or particular issue discussed and researched by our contributors feel free to let us know.