No matter how well and how often you clean your home you will always have to deal with clutter. With this being said there are ways to deal with clutter easily and hardly and fortunately for you we will present to you an easy clutter organizing routine that will permit to keep the clutter in your house to a minimum.
Commence by getting three cardboard boxes. You can get the boxes from your local supermarket and home depot or you can simply ask the manager of the grocery store to give you three empty boxes. Once you have got the boxes label them in the following manner: "to keep", "to donate" and "to throw away".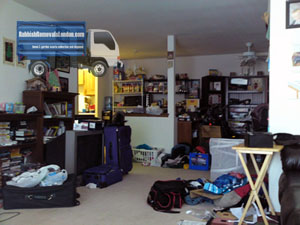 Next set a time limit for your clutter removing sessions. Your time limit can be anywhere from 15 minutes to one hour or more. Now commence the clutter removing sessions from one of your household rooms. Always work one room at a time. This way you will know that the room that you have just exited is clutter free and won't require anymore of your time. Most people commence with the bedroom or living room because these are the rooms that accumulate the most clutter.
Before you place the items in the boxes, sort them on the floor. This way you will get a better idea of all the miscellaneous items that you have in the room. Even more it will facilitate your choice on which item goes in which box. Keep in mind that once an item has been placed in one of the boxes, there is no going back. Once you have de-cluttered a room, vacuum it, dust it and clean it. This way you will not have only organized the room but you will have cleaned it at the same time.
When you are done with the clutter removal, place all "to keep" item in place. Then take the "to donate" box to the charity organization to which you are donating the items. Lastly call a professional company that provides junk removal and have it clear the "to throw away" items. If you are wondering where you can find such a company don't because nowadays there are numerous companies that provide junk removal. The only thing that you have to do to find such a company is to read the yellow pages or search in the internet.
As you can see you can easily have a clutter-free household by following this simple clutter removing routine.
Dealing with rubbish is part of life, whether running a household or business, people are faced with having to dispose of residential and commercial waste on a regular basis. In many cases this is easier said than done and sometimes removing waste becomes a laborious issue. If looking for tips and clever tricks on how to minimise waste in the workplace or home, or perhaps make dealing with waste more efficient and affordable then by all means check out the Free Advice section of our official company website. There our readers will find a large number of articles and content on waste management, innovations and developments in waste processing technology, as well as information on kerbside collection, local and national waste management regulations and much more. If looking to reduce and reuse in order to minimise the waste your household or business generates watch out for the 'green living and efficient working' articles our writers compile. Tips on how to reduce energy consumption at home or at work can also be found in the Free Advice section of our website. If you would like to see a specific topic or particular issue discussed and researched by our contributors feel free to let us know.