Hazardous waste doesn't necessarily have to be spent uranium rods or biohazards and toxic agents. In fact, many of the mundane, everyday waste people toss out without thinking twice is indeed hazardous waste. Local councils in the UK have special policy in place that regulates what is considered hazardous waste, and how is such waste supposed to be cleared away and disposed of.
Generally, residents and businesses of a given area have to secure a specialised hazardous waste clearance service provided by a licensed rubbish removal company. A good waste clearance company will handle the entire removal and disposal process from start to end. When looking to secure the right clearance solution, look for a service provider that recycles all, or as much of the waste as possible. Most of the specialised companies recycle nearly all of the hazardous waste they collect.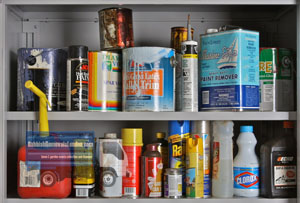 Furthermore, hazardous waste clearance and disposal also involves a decent amount of paperwork, so in order to save yourself time, effort and hassle look for a company that will fill out the forms for you – most of them do that anyway. Different types of hazardous waste have different clearance and disposal forms to complete. The more comprehensive clearance service you choose the better, in light of this go with a company that will also clean-up after the waste collection and disposal. Having the premises cleaned professionally by the clearance teams is quick and efficient, plus it won't bump up the overall service price – many companies include clean-up as part of the quote given to customers. Also, it is important to choose a company that has good short notice availability. Sometimes large volumes of hazardous waste may take up to forty eight or more hours to clear away so schedule the job accordingly.
It is a good idea to review the type of waste you need cleared away prior to contacting a specialised service provider. This is important because information regarding type and volume of hazardous waste will help provide you with a better, more accurate quote. On the same note, some companies only collect certain types of hazardous waste so in order to avoid any confusion, be aware of what needs to be thrown out. If you want to be sure that the hazardous waste clearance has been done properly and that rubbish has ended up where it should, choose a company that provides documentation i.e. tip or recycling plant notices that show how much waste was given for processing at such and such date and time. Also check with your local council if the type of waste you need cleared away is not collected through a council-run service at certain times of the month – this might also be a suitable clearance option.
Dealing with rubbish is part of life, whether running a household or business, people are faced with having to dispose of residential and commercial waste on a regular basis. In many cases this is easier said than done and sometimes removing waste becomes a laborious issue. If looking for tips and clever tricks on how to minimise waste in the workplace or home, or perhaps make dealing with waste more efficient and affordable then by all means check out the Free Advice section of our official company website. There our readers will find a large number of articles and content on waste management, innovations and developments in waste processing technology, as well as information on kerbside collection, local and national waste management regulations and much more. If looking to reduce and reuse in order to minimise the waste your household or business generates watch out for the 'green living and efficient working' articles our writers compile. Tips on how to reduce energy consumption at home or at work can also be found in the Free Advice section of our website. If you would like to see a specific topic or particular issue discussed and researched by our contributors feel free to let us know.