A home removal is definitely a great opportunity to improve your life in all its aspects. Of course, in order to achieve that you should first ensure that the actual home relocation you are facing in going to be carried out properly and in as hassle-free manner as possible. This is not as hard as it may sound. The only thing to do is to look out for several things including the safety of your items during the transportation process.
There are many strategies that you can employ in order to make the safety of your items a sure thing. Here we are going to describe how you can protect your clothes while they are being moved along with the rest of your furniture and personal items to the new location of your home.
Needless to say, clothes are among the essential items every human possesses. During transportation they can get dirty or thorn, they can get wet or damaged in various ways. So you should not take the state in which they are being relocated lightly.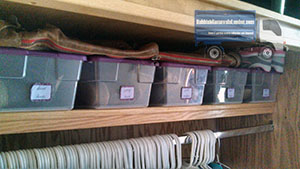 The most efficient and hassle-free way to get your clothes moved safely is to get your man and van contractor of choice take care not only of the loading them on a van and driving them to the newly assigned location, but to also take care of the packing process. Most man and van contractors offer comprehensive packing services that are both very efficient and come at a reasonable price, so no additional strain is going to be put on your budget in case you go for that option.
If you choose to do the packing on yourself after all, you should follow several very simple guidelines that will ensure the successful completion of the job:
Make sure that all your clothes are properly wrapped. Bubble wrap is definitely the best material that you can use, because it ensures the safety of your items of clothing. You can use bubble wrap to pack every item individually, or group several of them. Jackets and suits, which you would not want to bend or crease, are best wrapped in specially tailored clothing bags, so make sure you have a good supply of them.
When every item of clothing is properly wrapped, it is time for you to take care of the actual packing. For that purpose you are going to need suitable boxes, which you can obtain either from your man and van contractor or by simply searching online. Do not use ordinary cardboard boxes, because they are not water-proofed. Using such boxes can be potentially dangerous. Use the special kind of packing boxes that are of great quality, largely available and come at very reasonable prices. Packing boxes come in every size imaginable – from small enough to fit only a pair of shoes to huge wardrobe size boxes, which name speaks for itself.
The proper packing of your clothes will ensure that you overall house moving project is also carried out properly.
Dealing with rubbish is part of life, whether running a household or business, people are faced with having to dispose of residential and commercial waste on a regular basis. In many cases this is easier said than done and sometimes removing waste becomes a laborious issue. If looking for tips and clever tricks on how to minimise waste in the workplace or home, or perhaps make dealing with waste more efficient and affordable then by all means check out the Free Advice section of our official company website. There our readers will find a large number of articles and content on waste management, innovations and developments in waste processing technology, as well as information on kerbside collection, local and national waste management regulations and much more. If looking to reduce and reuse in order to minimise the waste your household or business generates watch out for the 'green living and efficient working' articles our writers compile. Tips on how to reduce energy consumption at home or at work can also be found in the Free Advice section of our website. If you would like to see a specific topic or particular issue discussed and researched by our contributors feel free to let us know.