Trust our expertise and look for our top class plasterboard collection services in London. You will struggle to find a better company than ours and we will make sure everything is picked up easily. We not only offer you affordable plasterboard collection services but eco-friendly ones as well. The size and the volume of your project don't matter as we are capable of transporting even large piles of plasterboard in London. Our main goal is to give you a safe and painless service in a very professional manner.
Our company is well-equipped to gather plasterboard even from the toughest spots. Regardless of your location we will make sure to show up and load up everything that we are asked to. Customer satisfaction is our number one priority and this is why we have invested heavily in our tools. WE work according to the highest of standards and we keep in mind all the regulations. Our technicians will not leave a mess behind and will make sure everything is in order before we leave.
Clients are able to save money with us as we have a number of competitive offers and deals. On top of it all you can take advantage of our free quote. Our associates will give you a quick rundown on our procedures and you will become familiar with the whole disposing and transporting process prior to making a booking.
It is important for us to constantly improve and get better
The company which we run is completely up to date with all the latest trends in the plasterboard collection sector. This is why we are a popular organisation especially when to comes to construction companies and handymen. All the certificates required are obtained and we also have full insurance. Dealing with us is risk-free. We can handle the trickiest and most challenging jobs.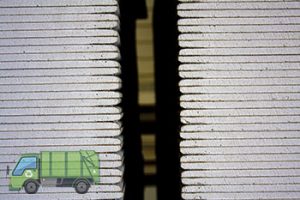 The best part is that we always pay attention to clients' requirements. Our experts will tailor any job to your needs and will make sure to customise every aspect of your plasterboard collection task. This is mainly due to the fact that we have perfectly well-trained personnel with outstanding and reliable equipment. We are also constantly available and you can contact us at all times. Get us for a weekend plasterboard collection in London or even for a weekend one. Our technicians can come daily after regular business hours if needed. With us you get all the convenience in the world and our company is surely the safest bet when it comes to plasterboard collection.
London being one of the most popular cities not only in Europe but in the whole world, has a number of great attractions. Along with the usual ones we are going to mention the SEALIFE London Aquarium. You can also pay the Science Museum a visit and be blown away by its exceptionally well thought out setting. One of the older royal palaces/prisons in UK's capital is The London Tower. It is almost a thousand years old and is a must see for every tourist.