As a company that is set in the heart of the English capital, we offer easy access to our premium quality office clearance services in London to businesses based in any part of the city. Our coverage includes every single London district. Don't hesitate to take advantage of our professional office clearance solutions if you need reliable assistance to get rid of outdated furniture pieces, equipment and general waste. We are able to carry out rubbish removals of offices of any size. By hiring us, you will not only maintain a spotless image for your customers, but you will also help your staff to work in a clutter-free environment.
A service that will not let you down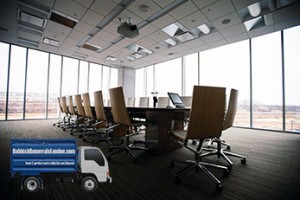 You will hardly find a better team for office rubbish clearance in London than us. As a group of vetted specialists, we always strive to meet the needs of our clients. We work with competent and skilled experts that carefully comply with all applicable regulations concerning the safety of our employees and customers, as well as the quality of the services we offer. Our qualified personnel can collect and dispose of broken equipment, unwanted furniture and all other types of office waste in a fast and effective manner.
We can be reached at any time of the day or the night. We will not even ask you to close your office because we are ready to schedule the waste collection process on a weekend or after regular business hours. In that way, your team won't be prevented from doing its job and your business will not suffer in any way. Before we get to the actual office clearance stage, we will call your landlord. That will allow us to organise our working process in a way that will not obstruct the work of other tenants in the building.
Join our client list today
Our customer base in London is impressive because we have managed to win the trust of many companies in the city. We are confident that we can add you to our list of future clients and help your business grow and develop.
Our office clearance in London does not harm the environment
We are properly licensed and registered to remove a wide range of rubbish and waste materials. Our staff can collect anything from files and paper to outdated tools or equipment and broken furniture. It should be noted, however, that we do not deal with the removal of hazardous waste that contains aggressive chemicals or toxic ingredients. We also hold permits that allow us to dispose office waste at every junk depot in London. All the recyclable rubbish is taken to a recycling centre where it can be reused in an eco-friendly way.
Our friendly and competent consultants can be contacted via phone or email at any hour of the day or the night. If you prefer, you can also visit our office. The company's experts will gladly find the best personalised solution for your office clearance and they will give you a free of charge quotation.
We are based in London – a city that is known for its countless entertainment venues. One of the most famous of them is the Royal Albert Hall. Founded during the second half of the 19th century, the venue has a capacity of nearly 5,300 seats.