All sorts of junk piling on your property? Have an upcoming spring cleaning and need hand with disposing of all unnecessary items that you have collected during the year? Need a hand with the regular waste management at your property? Just sign up for our top-grade rubbish removal in London service and forget about all stress and worries.
The London junk clearance firm that will not let you down
We are a licensed house and office clearance company that operates in all districts of London. No matter where you need us, we will show up on time, do an impeccable job and look after your interests and needs. Our technicians are all carefully vetted, very well trained and used to a heavy workload, which makes them efficient, responsible and rather trustworthy.
The proper way to have a waste collection job in London handled
Feel free to get in touch with us at any time you need assistance with:
Regular and one-off domestic rubbish removals in London
Office clearance
Garden Clearance
Furniture removals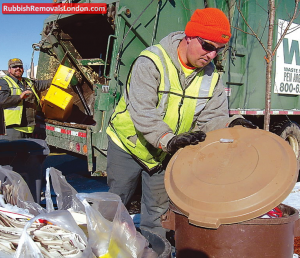 We operate with state of the art tools and vehicles that are suited to the requirements of the jobs we are hired for completely. All garbage trucks that we have at our disposal have capacity of up to 1100 kg and they can easily fit the specs of event he largest and most complex London rubbish removal that you might have for us.
We never shy away from a challenge
Naturally, all junk that we collect through our operation is properly disposed of and we recycle as much of it as we can. We hold permissions to all depots in Greater London, so when we are finished the waste collection from your property, we can quickly drive it all to the one nearest to you. This is not only the environment-friendly way to go, but also accounts for the lower prices our waste clearance services come on, because we save on fuel.
Excellent feedback for all our waste clearance solutions in London
The outstanding customer reviews that we receive constantly from clients who have opted for our leading rubbish removal services in London speak volumes about how good we really are. There is truly no reason why you should not pick up the phone, contact our friendly customer support and learn more about the solutions that are being offered to you here. Be advised that a rubbish removal in any part of London with us is not going to be a costly endeavour at all. We are reputed for our competitive prices. Check them out by requesting a free no obligation quote today.
The perks of having us work by your side
With our service you are going to get:
Professional attitude
Diligence
Eco-friendly results
Budget-oriented solutions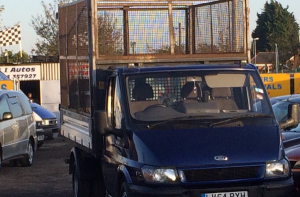 We cannot think of a better way to go around an upcoming rubbish removal in London than to get in touch with us.
As a London based rubbish removal company with long history, we maintain a strict protocol for the process of collecting and disposing of commercial, garden, and domestic waste. Every job begins with online booking or request by phone, where you can ask for a quote and schedule your rubbish removal service. Once the date and price is confirmed, our waste removal experts arrive at the agreed time to remove the rubbish from your property.

Our team would do a thorough inspection to make sure that all the rubbish is collected and then eventually will sort it into several different types – such as items that are recyclable and such that cannot be recycled and need to be disposed in specialized depots.
Some of the special items that need extra attention are:
Refrigerators
Mattresses
Fluorescent Tubes
TVs / Monitors
Doing so we dispose of the junk using a nature-friendly method, in accordance with the latest local London council regulations (depending on your borough).

If you need to have garden waste removed, we use a special composting processing equipment and facility to turn it into organic matter that can be used as fertilizer for gardens.
Commercial Rubbish Clearance
When it comes to commercial waste, we provide a tailored waste disposal service that can meet the specific requirements of the company or venue, requesting the rubbish clearance in such a way so that it keeps the impact on the environment to absolute minimum. We are also available for same day service bookings.
London is a huge city and one that seemingly everyone wants to live in. The current population count of the capital is over eight million and rising. The area is divided into Inner and Greater London, while the River Thames, which runs through the middle of the metropolis, creates further divisions into South and North End. Places like the City and Canary Wharf are vibrant commercial centres, while Camden, Westminster, Croydon, Wimbledon, Brent etc service both residential purposes and contain popular tourist attractions. Landmarks in the capital that you should not miss checking out include Westminster Abbey, The London Eye, Buckingham Palace, as well as museums and galleries such as the British Museum, Tate Modern, and the Imperial War Museum.