The positive sides of better management of the waste that accumulates in your home are innumerable. In the environment responsible age we live in, lowering the production of rubbish at your home is vital, so you should never miss a chance to do that. What is more, less waste means easier maintenance of your home – you will save a lot of time, energy and even money by simply following the steps described below:
Paper in all its forms takes up the greater part of the waste accumulated in every home. Reduce the quantity of paper in yours by reducing the quantity of mail you receive – you can unsubscribe of any bills etc. and simply check them online. When you have an occasion that supposes receiving gifts, ask your friends not to use wrapping paper – it might be pretty, but when you think about it is quite useless. The only thing wrapping paper does is pollute the environment and your home.
If you want to live an organic life, meaning that you eat organic vegetables, milk and a variety of other fresh products, you can think about start using the doorstep delivery services many manufacturers offer. The products usually come in little packagings or such that requite to be returned at the next delivery.
If you have a garden attached to your house, you can even think about growing your own vegetables. In addition to reducing the waste, it will be much more fulfilling (and tasty). You will even be though discipline by this experiment.
Another great thing to do is start using either rechargeable batteries, or items that use solar panel power – there are many models of watches, calculators etc, as well as such that use mains power. Batteries are among the leading causes for pollution, and old ones tend to pile up at one's home over time.
For expert waste management – go the experts. Hire a rubbish removal company that operates in your neighborhood to regularly come take care of the waste disposal of your property. Most company's work on a flexible schedule that will fit your perfectly. Most importantly, their technicians know how to properly dispose of any item, and will take care of the collection and recycling for you. Waste disposal services nowadays are not expensive at all, so you should seriously consider making use of those available in your area.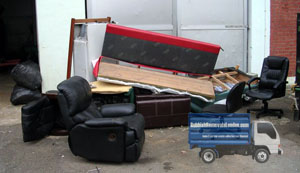 After all, there is one important thing you should take care of in any case. That is to consult with your district's regulations about waste disposal before you attempt anything. You will find more useful tips that way such as the address of your local recycling depot or waste collection centers.
Dealing with rubbish is part of life, whether running a household or business, people are faced with having to dispose of residential and commercial waste on a regular basis. In many cases this is easier said than done and sometimes removing waste becomes a laborious issue. If looking for tips and clever tricks on how to minimise waste in the workplace or home, or perhaps make dealing with waste more efficient and affordable then by all means check out the Free Advice section of our official company website. There our readers will find a large number of articles and content on waste management, innovations and developments in waste processing technology, as well as information on kerbside collection, local and national waste management regulations and much more. If looking to reduce and reuse in order to minimise the waste your household or business generates watch out for the 'green living and efficient working' articles our writers compile. Tips on how to reduce energy consumption at home or at work can also be found in the Free Advice section of our website. If you would like to see a specific topic or particular issue discussed and researched by our contributors feel free to let us know.