Who says that old and broken items cannot be useful? If you are interested to learn how you can reuse and repurpose your out-of-date and broken items keep reading as we will turn your attention on three repurposing projects which you can conduct on your own without any professional help.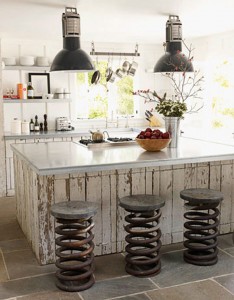 Before you commence working on any of the projects from down bellow make sure that you find and hire a professional rubbish removal company that provides reliable junk disposal services. You will require such services because these projects tend to produce a lot of waste that you will be too tired to clear. Also why lose time and energy when you can hire a professional company that will conduct your rubbish removal for you.
Now that you have taken care of the junk clearance & collection by booking in advance a professional clearance company here are the repurposing projects:
Skateboard bench

 – If you have old skateboards that are sitting in your garage or basement and taking space, you can easily convert them into a porch or patio bench. For the task you will need to find a broken bench frame. You can find such a frame in antique stores and pawn shops. Once you bought the bench frame remove the broken wooden planks from it. Then get your skateboards and cut them in equal halves. Now drill four holes in each skateboard piece and arrange the pieces on the bench frame in a chair-like position. End the project by screwing the pieces in place.

Sweater upholstery

 – If your dinning chair's upholstery is old and worn you can replace it by using your old sweaters. Simply cut the sleeves from the sweater and use them to upholster the backrests. Use the torso sections of your sweater to upholster the seats of the chairs.

Wine rack

– Take your old shoe organizer and repaint it in a bright color such as orange, yellow, red and etc. Next take two legs from an old dinning or coffee table and attach them to the shoe organizer. Now add some wooden pieces to the shoe shelve in order to create squares in which you will arrange your wine bottles. However do not convert the entire shoe shelve into a wine rack. Leave a part of it intact so that you can arrange you wine glasses and accessories. When done place your new wine rack in your kitchen and arrange your wine bottles in it.
Dealing with rubbish is part of life, whether running a household or business, people are faced with having to dispose of residential and commercial waste on a regular basis. In many cases this is easier said than done and sometimes removing waste becomes a laborious issue. If looking for tips and clever tricks on how to minimise waste in the workplace or home, or perhaps make dealing with waste more efficient and affordable then by all means check out the Free Advice section of our official company website. There our readers will find a large number of articles and content on waste management, innovations and developments in waste processing technology, as well as information on kerbside collection, local and national waste management regulations and much more. If looking to reduce and reuse in order to minimise the waste your household or business generates watch out for the 'green living and efficient working' articles our writers compile. Tips on how to reduce energy consumption at home or at work can also be found in the Free Advice section of our website. If you would like to see a specific topic or particular issue discussed and researched by our contributors feel free to let us know.