by Joanna Burns May 1, 2019
Whenever you want to get rid of a large amount of waste or unwanted items such as broken furniture, old carpeting or faulty household appliances, the best way to take care of that task is by hiring a skip bin. They come in a wide range of sizes and they will give you the flexibility to collect all the rubbish at the pace and time that best suit you. In addition to that, even a high-quality skip hire alternative in London makes a much more affordable solution that a full-scale rubbish removal service. The only downside is that you will be the one who will need to fill the skip. The good news is that this is far from a complicated job. Still, you need to stick to several safety rules when you are loading the skip bin. Otherwise, you may end up dealing with:
An injury
A hefty fine from your local council
Waste spilling
A road accident
So, next time you are planning to rely on a skip hire service, consider the following things.
Do not overfill
In an effort to save money, many people who choose to rent a skip bin do the impossible to put as many things in it as they can. However, you need to remember not to overfill the container because that will make it harder to collect by the rubbish truck driver. Also, the waste you have placed in it may spill on the road and result in a road accident. It is better if you spend a bit more money on a larger skip than opting for the smallest option.
Balance the skip's load
The load needs to be equally dispersed in the skip bin. To ensure that, put the bulkiest and heaviest items at the bottom. By doing so, the bin will be less likely to tip over. Also, avoid putting all the heavy stuff only on one end of the bin for that same reason.
Do not get inside the skip bin
If you have failed to stick to our first skip safety rule, you have probably ended up with a bin container that is overfilled. This may tempt you to jump inside and try to crush down some of the waste with your feet to make room for a few more waste items. Don't do it! You can easily injure yourself, especially if you have placed construction materials in the skip or things that are sharp and pointy such as pipes, glass bottles, etc.
Check whether you will need a permit
Skips take up a lot of space. So, depending on where you live and where you are planning to put the bin, you may need to get a special permit from your local council and pay a small fee. Contact your local council before you contact the rubbish removal company.
Keep hazardous waste out of the bin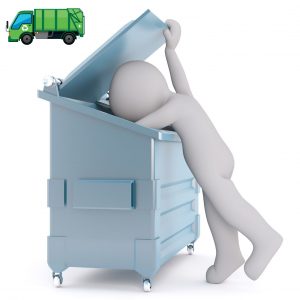 Even the best and most reliable waste collection firms in London are not allowed to handle hazardous waste. This means that you cannot put dangerous materials such as gas bottles, paint, solvents, batteries, inflammables, etc. in the skip bin.