by Joanna Burns June 19, 2019
The outdoor space in your home is just as important as the one that you have locked between the four walls of the house. If you have always wanted a nice, beautiful garden, but you used to think that it is too much work or requires skills that you do not possess, you've been wrong. Gardening is fun, gardening is healthy and most importantly, gardening can be easy. All you need to do is follow the simple principles we've taken the time to lay out here and you will see that we are talking the truth indeed.
Decide what you want
The important concept that you need to understand is that this is your garden, hence you are not only allowed but encouraged to do with it whatever you like. If you want a beautiful space filled with trees and flowers, go for it. If you are a fan of the idea of growing your own vegetables, there is no better time to start than now. Or if you imagine warm summer nights spent barbequing and drinking cocktails on the patio with family and friends, why not? All you need is to make a decision and then look for ways in which to make your vision happen.
DIY or hire someone
Talking about decisions, a vital one to make is whether you are going to do all the work on your own, or you'd rather delegate the duties to someone with a professional background in the field. Both options have their pros and cons:
Professional landscaping can be costly, but:
If you lack skills and time, it's better to opt for the pros.
Landscaping and gardening can turn into a nice hobby for you, but:
It consumes time and requires dedication; if you lack even one of the two you will not be successful.
In the end, it comes down to your personal situation and preference.
Keep it clean and tidy
Once you have built the flower-beds, trimmed or planted trees and hedges, created beautiful pathways or installed a patio, your main goal would be to keep them all in as good a condition as possible. Usually, you will have to spare a couple of hours each week for the task, or a little more if the outdoor space in question is large, as well as in certain times of the year. Fortunately, you can find some pretty cheap garden clearance services in London to help you at least get rid of the organic waste accumulated by your garden more efficiently. Composting is another great alternative if you would like to be a step closer to have a fully sustainable domestic environment.
Use it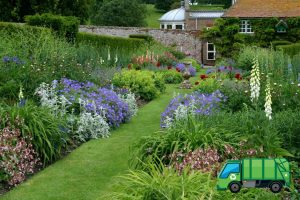 Last but not least, you should not forget that after all the hard work you've put into your garden, you should enjoy it. Even the simple things such as spending half an hour after work to mediate among the flowers you are tending to or making a salad from vegetables you've grown yourself will have a very positive effect on your spirit. Try it out and see for yourself.