Paper waste is produced by both businesses and households and even though in many of the cases it is recyclable, it accounts for a great percentage of worldwide pollution. Some of the most staggering facts about this category of waste include findings such as:
About half of all the waste produced by companies comes from paper waste
One-fourth of landfill waste is paper
Despite the many technological advancements and the rise of digitalisation, global paper demand is expected to rise by 100% over the next 12 years
The production of a single A4 sheet of paper requires the use of approximately 5 litres of water
Therefore, no matter whether you are running a business or a small household, you should try and reduce the amount of paper clutter which your staff or family is producing.
Don't let envelopes stack up
Most of the paper waste in an office or a home comes in the form of mail or to be more specific unopened mail. As soon as you receive an envelope open it, read it and do what you have to do with it. If it is something you do not need – throw it away if it is a letter from someone you know – write a reply as soon as possible… Whatever you do, don't let the mail pile up.
Say "No" to junk mail
If you receive a lot of junk mail or old subscription letters that always end up in the bin, take a good look at the content of the envelope. In most of the cases, companies put some contact information such as an email, a phone number or an address to which you can call or write with a request to unsubscribe.
Go digital
The best way to cut down on paper clutter is if you go digital. Take photos of letters, documents, bills and receipts which you would like to keep and store them on your computer, a hard drive or a cloud platform. Use note taking apps instead of sticky notes and subscribe to get your favourite newspaper or magazine in a digital form and enjoy it on your laptop, tablet or smartphone.
Go through old paper clutter and purge
The above-listed tips will help you reduce paper waste. But what if you already have a pile of documents, junk mail or old newspapers in your garage, for example? What are you supposed to do with it? The answer is obvious – sort it out. Dedicate a weekend to go through all your paper clutter and we bet that you will find a lot of things that you no longer need to keep or such that you can digitalise and keep on a hard drive or uploaded to the cloud. For the everything else, rely on an affordable house clearance solution or a professional office clearance service in London.
Buy a shredder for important documentation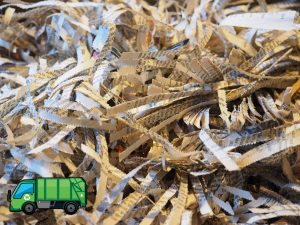 Tossing important documents such as banking statements, letters, business mail and receipts is a recipe for identity theft. To avoid becoming a victim of such a crime, invest in a shredder. This piece of equipment now comes in a much smaller form and it will completely destroy your personal and confidential paper waste.