It is astonishing how many people are willing to pay good money to have junk relocated from their current address, to the one their moving to. Obviously moving service providers around London don't care too much as to what type of junk they are booked to transport but wouldn't it be more economical and logical to get rid of items you no longer need before organizing the removal of your household – yes, it would be.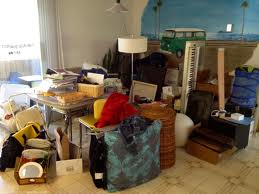 So, how can you deal with all the junk and rubbish you have lying around, without too much hassle or wasting time and effort? Sell it of course! A garage or yard sale is an ideal way to get rid of the things you no longer need and make some money while you are at it. As the old saying goes – one man's junk is another man's treasure, so get cracking and see what you can make of it. Sort through your belongings and single out the items you can sell, don't bother keeping a pile of maybe junk as maybe will never come. Things which are obviously worthless or broken beyond repair should be disposed of.
You can consult with your local council on how to get rid of such items, or you can organize for rubbish removal service and have everything taken away in one go, quickly and with no fuss.
Clearing away junk and clutter from your residence will also make your property removal much easier and more efficient as there will be less to pack and secure, and fewer items to transport, which is also likely to reduce the overall cost of moving. Relocation companies in London charge you according to the weight and volume of items being moved so shaving a few pounds off the load will leave you with more money to spare. If you come across valuable items which you like to keep, separate those from the rest and start thinking how to pack and secure these properly so they last the trip. If you are not sure how to go about this task, or you don't have sufficient amount of heavy duty packing and wrapping materials you can let the man with the van do this for you.
Usually the van drivers are qualified professional movers, so they will have no trouble in assisting you with all preparations and aspects of the removal.