by Joanna Burns December 12, 2018
What's not to love about Christmas? You get to enjoy a few days off work, some gifts, time with your nears and dears and plenty of food. This truly is the most wonderful time of the year. Unfortunately, it is also the most wasteful time of the year. Not many people think about recycling or smart waste management during the holidays and that is a serious problem. How serious? Just look at the numbers. Every year, Brits throw away:
54 million filled plated – the amount of food that will end up in the bin
100 million bin bags with wrapping paper
Tons of Christmas cards
7 batteries (per a household)
Nearly 70% of the people who celebrate this holiday in the country admit that they tend to buy too much food during the festive season, a great part of which they throw away.
The funny thing is that the Christmas spirit is about being kind to one another and yet not many of us try to be kind to the environment. If you too feel that this tendency is wrong, you can easily reduce your Xmas waste. All it takes is a few quick and smart steps.
Christmas decorations
One of the greatest source of waste during the festive season is holiday decorations. Buying a real tree and decorating it with brand-new ornaments and garlands is a great way to get in a cheerful and jolly mood but it is quite unnecessary. Fake Xmas trees make an incredible eco-friendly solution. You can reuse them for many years, especially if you store them properly. If you are not ready to give up on a real tree, make sure you recycle it. There are several recycling facilities in the English capital that can give it a second life. As for the ornaments, it makes no sense to change them every year. Just buy a few new pieces for your Christmas tree and you are good to go. If you have old ornaments which you are not planning to use, donate them.
Holiday shopping and Xmas gifts
The pre-Christmas shopping mania is another reason why this time of the year is so wasteful. If you don't want to contribute to this trend, bring your own bags when you shop for gifts. Also, if you are not sure what to buy for your friends or relatives or if you do not know the exact size of shoes or shirts they wear, get them a gift card. Otherwise, your present may be chucked in the bin or be regifted.
Green alternatives to present wrappings
Wrappings and packaging materials are usually thrown away on the day after Christmas. A smart way to avoid that is if you put the presents you plan to give away in gift bags. By doing so, they are more likely to be reused. Another great solution is not to pack the gifts at all. You can wrap them with another present such as a scarf, a blanket, a pretty handkerchief, etc.
One last thing – consider replacing traditional Christmas cards with e-cards or plain emails. Your holiday greeting letters will sooner or later make their way to the bin. So, don't hesitate to go digital this year.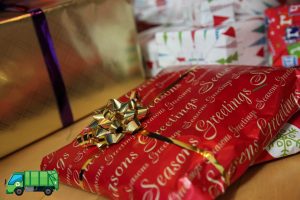 If you feel like decluttering or refurnishing before the holidays, remember to rely on professional help. Hire a skilled team of rubbish collectors that can provide you with a range of waste disposal solutions such as domestic rubbish removal, skip hire or green furniture removal services in London. Let nature know it's Christmas time!