Many companies undergo office clearances, an office clearance is not necessarily brought upon by a bankruptcy or other unfavorable circumstances. In many cases, a full scale office clearance is a long awaited project which aims to get rid of old and redundant office electronics and equipment in order to open up room for the new.
If you are an office manager or business owner who is trying to organize a quick, easy and affordable office clearance read on for some useful and easy to understand tips and advice on how to deal with the situation effectively. Keep in mind that there will be lots of junk and rubbish left at the end, therefore you will need to organize for specialized rubbish removals service. This is so, because London local council regulations disallow the disposal of certain items and materials through conventional means.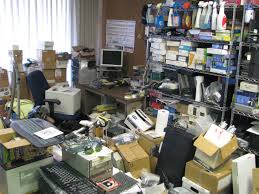 Start your clearance by sorting the office items and equipment in two groups – the items which you will be keeping, and the items which are to be disposed of. Redundant office electronics are first on the menu. If you are planning on purchasing or have already purchased new electronic equipment for your office, then by all means get rid of the old.
Electronic waste is also subject to regulations so consult with the company you selected for your office rubbish removals and they will know what to do with those old electronics.
Office furniture comes next. Furniture, just like computers doesn't take too long to wear down and become old fashioned. If you are also refurbishing the office, then you can either sell pieces of furniture which are still in good nick, or you can have them cleared away. Many of the London based rubbish removals companies can give items such as old furniture to charity. More specific pieces of office equipment such as filing cabinets, can be either recycled or sold on for profit. There are places where the classic filing cabinet is still a much needed piece of office equipment, despite being in the digital age.
There are certain regulations allowing for preferential tax schemes as well as other government benefits for companies which clear their office premises of inefficient electronics, and other features and items, on a regular basis, as to keep the office greener and more efficient. If your company qualifies, then you have every reason and excuse to do office clearances more often.