by Joanna Burns March 20, 2019
Domestic, commercial, construction, hazardous… Waste comes in many different forms and types. That is why we have organic and green waste. Not many people know that they are not one and the same thing. If you too are not aware of that fact, you are guaranteed to find this post more than informative. Nevertheless, we cannot deny that these two categories of rubbish have several things in common:
They are not hazardous
They can be put into an excellent, eco-friendly use
They need to be collected and disposed of in a very specific manner
They are decomposable
These similarities, however, do not make them the same and here it is why.
The true meaning of organic waste
This type of junk comes either from plants or animals and because of that it is completely decomposed with the help of various microorganisms such as fungi, bacteria and etc. Organic waste is often referred to as food or kitchen waste although this term captures only part of its essence and it is not broad enough to accurately describe it. There are a few great ways in which it can be recycled or reused. For instance, this type of junk is excellent for a home compost. If you are a farmer or you know one, you can put it into good use by feeding some of the animals on the farm with it, particularly pigs. Also, you can make your very old backyard worm farm and let these tiny creatures produce high-quality fertilizer for your garden. Some examples of organic waste include:
Fruit and vegetable peels and scraps
Garden waste
Cardboard and (some types of) paper waste
Bones
Old food leftovers
The true meaning of green waste
If you have read the first part of this article carefully, you may have already realised that green waste is actually a subtype of organic waste. Therefore, just like the latter, it is fully biodegradable and it can be recycled and reused. The most common place where you can find green waste is in the garden:
Lawn clippings
Twigs
Palm trimmings
Foliage
Plant cuttings
Tree branches
Unlike junk of an organic origin, however, this one does not feature animal-related junk material or bulky waste such as massive trunks.
What is the right way to dispose of each of them?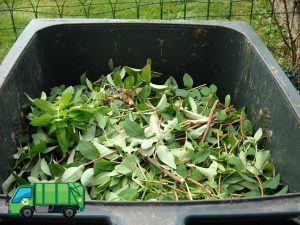 Even though both green and organic waste can be easily recycled, reused and composted they can cause a lot of harm to the environment if they are not disposed of in a proper manner. That is because they can release high doses of methane – a chemical that is among the most dangerous greenhouse gases.  Therefore, if you want to organise and clear out your backyard, rely on a professional garden clearance in London. It is particularly suitable for green junk. The same goes if you want to get rid of a large amount of organic waste (spoilt food, bones, etc.). Hire a skip, fill it up and ask the rubbish collectors to come and pick it up. They will make sure that it is handled in the utmost eco-friendly way possible.