by Joanna Burns March 6, 2019
With this winter becoming more and more a faded memory, it is high time you start considering carrying out a spring cleaning at your home. If you are not sure how to go about such a strenuous task, or you just need to make the process a little bit more efficient, you might find the following pieces of advice to be quite useful.
Start off by de-cluttering
If you are keeping up with the chores year-round, you might not have that much to clean even when you are conducting major spring sanitation. Clutter, however, is often an issue in even the best-kept households. That is why before you try to do any other piece of work on the agenda, you should make sure that you have de-cluttered your property in its entirety.
Remove junk and unnecessary items
Once you have gathered all household rubbish and decided whether or not you need to keep those possessions of yours you do not seem to use that much lately, you will need to safely remove them from your home. An example of items that you would want to throw away would include:
Broken down furniture
Old appliances
Books, magazines, newspapers that just take up space but you are not reading
Souvenirs and decoration that are only gathering dust on your shelves
Old car tyres and parts
Some of those things can easily be donated or sold online. The rest needs to go to the recycling depot. Instead of doing it on your own, save time and energy by hiring a professional house clearance team in London that will help you achieve the results you are hoping for without going into too much trouble.
Set aside enough time
Remember that spring cleaning can be quite time-consuming, so getting a day off work, or designating the whole weekend to the task at hand might be wise. Even if you have more time than you think you are going to need, it still might not be enough. Also, remember that it is always better to go slower instead of rushing things. This is why time is of the essence here.
Work methodically
It is not only your living quarters that need to be taken care of during your spring cleaning, but also other parts of the property such as the garage, attic or the garden.
Specialists suggest that you work from the inside of your home towards the outside. Work a room at a time not only to keep track of your progress and avoid confusion but to also achieve the best results possible.
Be equipped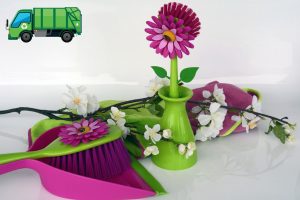 Having the right tools and supplies ready to be used when you start your spring cleaning is going to make a difference. There is nothing more annoying than having to run to the store because you have no detergent for stain removals or a suitable broom. Interruptions can disenchant you and make you slack off, thus preventing you from making the desired progress with your spring cleaning. Thus, start only when you know you have all you may need within your reach.