To determine the average longevity of every furniture piece in your home, you need to consider its materials, quality, usage and etc. Ultimately, however, it is hard to say when the bell will toll for your new furniture. Still, experts have tried to estimate the average lifespan of several popular furniture pieces and here are the results:
Bed – 7-15 years
Dining table – 5-20 years
Bedroom dresser – 5-15 years
Sofa – 7-15 years
Coffee table – 5-20 years
Bedroom bench – up to 7 years
Dining chair – 5-15 years
These figures, of course, can only be used as a rough reference and you should not feel obliged to stick to them, especially if you spot one or more of the tell-tale signs that your furniture is ready to enjoy its retirement years.
Strange creaks
Many people ignore this sign and are largely unbothered by it. However, it shows that the piece is wearing off. An odd creak may also show that some part of the furniture has been cracked or even broken. So, even if you do decide to hang on to your good old creaky chair or table for a little longer, do investigate the cause of that alarming sound.
You feel like giving your home a quick makeover
Your furniture does not need to be old or broken for you to replace it. An excellent excuse to go shopping for a new dining or living room set your growing desire to give your house or flat a different look.
You hate your furniture
A person's taste, likes and dislikes can change over time and that is perfectly normal. Don't feel confused or guilty if you have suddenly started to hate the bright red colour of your sofa or the bulky cupboards in your kitchen. If you don't like something about your home's interior and if you can afford to change it, go for it. Well, if you are overcome with this feeling just a few short weeks after you have purchased the furniture piece, maybe you should hold your horses because it may be just a whim that will pass in time.
People hate your furniture
Although you know that your old armchair does not quite match the rest of your interior and it is covered in stains and spills, you don't mind it at all. The thing is that everyone else keeps saying that it is ugly. Well, it is high time you listen to people's opinion. Do not let your sentimental feelings blind you. Find a budget-friendly skip hire alternative in London and toss that ancient relic out of your life.
Your upholstery furniture pieces are torn or covered in cracks
The most obvious tell-tale sign that your furniture needs to be replaced as soon as possible is if its fabric is torn or cracked. There is no hope in such cases. Time for some fresh blood!
You are dealing with a "shapeshifting" case
Is your sofa or bed giving you back pain? If yes, it may have lost its original shape. Since one of the main purposes of every furniture piece is to offer people a comfortable experience, you have every right to send that old fella to the junk depot.
The new home is bigger/smaller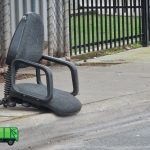 Regardless of whether you are upgrading to a spacious house or downgrading to a granny annexe, for instance, you should consider getting new furniture pieces. The dimensions of ones you are using at the moment may not be a good fit for your new home.