by Joanna Burns April 17, 2019
Recycling in modern-day UK is easier than ever before. That is particularly the case in London where local councils work in close partnership with licensed recycling facilities around the city and have also launched their own recycling schemes. Despite that, however, about 40% of all people living in the country believe that recycling takes too much of their time. Another 28% are suspicious of their local council and think that even if they use the designated recycling bins, their waste will not be recycled. If you too share this view, you can take matters into your own hands. There are many types of rubbish which you can reuse and recycle at home:
Food leftovers
Clothes
Toothbrushes
Plastic bags
Broken appliances
Why even bother doing that? Because you can save not only the planet but also some money.
Food waste
Do you have a garden or a backyard? If you have a green thumb, you probably invest a considerable sum of money in fertilisers every year without even realising that the best types of fertilising materials are those that end up in your kitchen bin. Potato peels, last week's leftovers you forgot at the back of your fridge, egg shells… you can use all that waste to make a compost pile which you can later use to boost the fertility of the soil in your home garden.
Turn your dishevelled old toothbrush into a cleaning tool
Dentists advise to replace your toothbrush at least every 3-4 months. This means that a household of three people disposes of at least 12 toothbrushes a year. But before you toss yours into the rubbish bin, use it to clean the hard-to-reach nooks and crannies around the house. Toothbrushes make an excellent cleaning tool and many cleaning experts swear by them and use them to sanitise shower heads, sinks and faucets, fridges, grout, etc.
Old jeans
Using worn out clothes as cleaning cloths is something many people do. And yet, only a few decide to recycle their outdated jeans by turning them into a dusting or a wiping accessory. That is quite unfortunate since denim is an excellent fabric when it comes to cleaning. It easily removes fingerprints and dust and can be used on all kinds of surfaces. Try it out!
Plastic bags
Plastic bags are recyclable. However, you should not put them in the recycling bin because they are not covered by the standard recycling programs in the country. The reason – they are difficult to process and need to be recycled separately. In addition to that, they often cause damages to the recycling machines as they easily become entangled in one another. So, you either need to stop using them altogether or to simply find a way to recycle them at home. You can do the latter by using them as bin bags. If you have a dog, you can turn them into dog waste bags.
Broken washing machine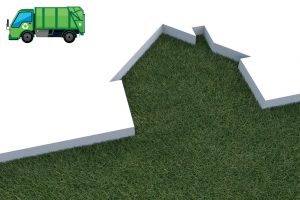 Almost all professional waste collection businesses in the UK capital offer comprehensive furniture removals in London and budget-friendly collection of domestic appliances. That is because these items are hard to dispose of since they are bulky and heavy. But if you have an old washing machine and you want to get rid of it, take out its drum before you call the rubbish removal experts. You can recycle it by turning it into a fantastic and totally free fire pit or even a BBQ.